Two conversations about fear surfaced in my life at about the same time. That kind of serendipity always catches my attention and intrigues me. One conversation was about what fear is, and the other was about what's the opposite of fear.
I've published a term article about the opposite of fear that comes to a different conclusion. Check it out.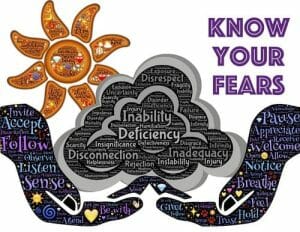 Fear is resistance. Being open to other possibilities than the one you are holding onto helps overcome resistance. It's a reflection of attachment to specific outcomes. Developing a positive outlook and attitude helps you avoid fear, and even release it once you realize you are holding it.
Fear is the mismanagement of emotions. Being self-aware is one good step toward managing your emotions. Fear can be like a mirror for you; as you find fear welling up in you, that's a good time to step back and evaluate what emotion the fear is "acting out" for you. An attitude of gratitude is a great fear releaser.
Then there were the opinions about what the opposite of fear is. This conversation went on for a long time, with a wide range of ideas put out for discussion. Words like peace, optimistic, faith, trust, and belief came up. Also, confidence, contentment, forgiveness, and security were considered during this conversation. Education was offered up as a different look at fear. Eagerness, openness, acceptance, as well as fearless and fearlessness were also suggested as opposites of fear. Steadfast, empowered, and guts were also words thrown into the mix.
One discussion that wasn't addressed is what fear can do for you. It can be a motivator, protector, and guide. It can inspire you. Or it can bring you down and cause you to freeze.
I see overlap between the two conversations. I see different backgrounds and experiences revealed in the discussion. There were religious foundations, intellectual approaches, and self-reliance attitudes expressed. What great conversations to witness and be part of.
How do you view fear? What role does it play in your life?
Some people see fear as something to avoid or something to conquer. Could fear be just another emotion that is in your life and it takes on as much emotional charge as you allow it or give it? Can it be a beast that grows if you feed it and shrinks if you ignore it — or deal with it calmly?
I don't have answers here. I suspect there is no one correct answer. I do think it's good to get a handle on what fear is to you and how you want to channel it so that you can direct your life rather than letting fear direct it.
The oak tree can break in a storm while the bamboo stalk bends in a storm. Being mindful is one way of learning to manage your emotions, including fear, so you don't resist and break. Being focused is also part of your solution to what fear is in your life. Focus on growing with flexibility and detachment so the storm passes you by.
How are you going to live your life?
I've published another article about the opposite of fear that comes to a different conclusion. Check it out.