I used to think of reading as a way of passing time, entertaining myself, or learning new things. Little did I realize how much more I've been gaining from reading — until I read an article expounding on the numerous benefits of reading. My favorite phrase was "Read for the revolution of your spirit."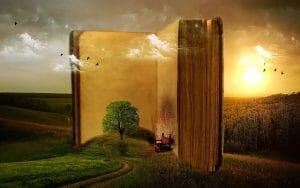 Oh, that captured my imagination! I'd never thought about reading as a revolutionary action before. The concept of revolution continued with discussing how reading can transform not only your spirit, but also your business, heart, and soul. Reading can help you find a new cause or determine your mission, too. Think about how much good can come from reading. Consider how reading sparks your inspiration, and what comes from that.
Reading has long been a habit in my life. I was voted Bookworm in fifth grade. As a senior in high school, I took an independent reading class and read three times more books than were required for an A. My reading selection was eclectic, too: biographies, history, science fiction, spiritual, and novels. Since then I've added autobiographies, travel, self-help, environmental, and business-related reading to my selections. It seems to me I can't get enough. I even went through a stint of reading books about WWII and talking with my army veteran dad about what I was learning — having borrowed the books from his collection.
Do you read? Much? I'm curious: why, or why not?
Reading is something my family does. Dad was a voracious reader, often reading four to five books at a time. A memory my mom shared when I was young has stuck with me and may have influenced my reading habit. She told how she loved to curl up and read in the evenings with Dad. That sounded so romantic to me!
Reading probably started as a requirement for school. But, it eventually came down to a habit and the structure of my life. It's part of my mindset for how I spend my spare time or how I learn new things.
As with anything, there's never enough time to do all the things we want. You have to make the time, to prioritize your time, for reading. The advent of ebooks was a godsend to me! Now I can and do carry my library with me everywhere I go.
In reading the mentioned article, I came to see that the reading I've done has shaped my thinking and how I experience life. It's impacted how I relate to people and situations, and how I act or behave. That's quite a legacy of impact from a reading habit.
I mentioned that reading is a habit. You need habits that support you to get and keep unstuck. A reading habit would do that excellently! The habit comes from deciding when and where you'll read. Then write that down in your day planner, your phone's calendar (with an alarm), or maybe on sticky notes in the locations you have decided to be for reading. Then start.
Since I have my books with me at all times, my approach to my habit is to focus on the when part of the habit. I try to read a bit before bed (with my Twilight app in full function) and during the day as a break from work activities. I went through a period of reading as part of my morning ritual, but the ritual has gotten so long that I stopped reading then. I read when I'm flying and when I'm waiting in line. My dad kept his various books in his various reading locations.
What reading habit are you going to establish or grow? What kinds of books are you going to read? When and where will you read? What format of book will you choose — paper or electronic? And what's your plan for starting the reading habit?
One other aspect of my reading habit is that after reading several business-related books I'll indulge in a novel or spiritual book. The variety appeals to me and keeps me a bit more balanced. My spirit soars from my reading.