The Doors sang about transformations and breakthroughs in their 1967 single, Break On Through (To The Other Side). The song starts with this verse: "You know the day destroys the night; Night divides the day; Tried to run, tried to hide; Break on through to the other side". Day, night, run, hide — yep, there's a challenge in this.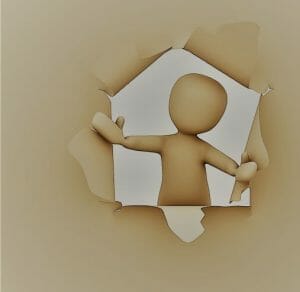 Breakthroughs are a bit yin and yang. Maybe you are breaking through by moving out and away from something — the pain or fear that holds you back. Maybe you are breaking through by moving into and toward something. Either way, there is light and dark involved in your transformation. Either way, there is growth involved.
Your dreams and goals aren't destinations that once you reach them you are done so can kickback. Your dreams and goals are milestones along the path of life, the journey of life — they are part of the grand adventure of life!
Are you motivated by breaking free of fear and the things that hold you back, or are you motivated by striving for the joy and promise of engagement in life? We each have our own motivation for the growth we undertake. It's all good.
Have you considered what "walls" keep you from your growth? Is it labels you or others have applied to you that you buy into? Could it be that you don't see or feel your dreams but since they are there but you just don't know how to go for them? Are you feeling that you don't deserve having more or better than what you have right now? There are lots of things that stop your growth.
It's my mission to make the stop in your growth a temporary state.
The shame often associated with labels — labels like ADD, stupid, lazy— is real. Those labels aren't walls to stop or define you, though. They are challenges to overcome and to break through and thrive from.
Sensing dreams you can't see or feel is the call to your future. Don't ignore the call!
Feeling unworthy of your dreams is violating your rights to happiness and fulfillment. Are you ready to transform into a fully engaged participant in your life?
I referenced the yin and yang of breakthroughs. Being in a life you aren't in love with can feel like a dark place. There's a kernel of light in that darkness, though. That's the seed that will help you grow into the life you want. In the life you want, the lightness, there will undoubtedly be a kernel of dark. Learning to be resilient and striving to continue growing is part of the formula for living in the light and staying out of the dark.
Some sort of darkness is always there. If you try to avoid it, you start to lose your engagement in life and the light starts to dim. When you keep striving, learning, and growing, you keep the kernel of darkness as a mere reminder of its potential in your life, and you keep the light bright and warm.
I believe life is meant to be lived fully, that our life adventures never end. Rather than avoid the darkness of life, seek out the lightness of life by getting engaged and finding more success, joy, and fulfillment. You deserve it. If you need help, I can guide you.